New Designs!
If you're interested in the G-4 glider, you might also like some of my newer designs.
See newer designs
G-4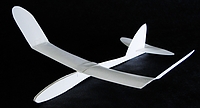 Here are plans for a laminated paper airplane: the G-4 glider.
If you haven't built one of these before, I would suggest that you start with the simpler G-1 glider. It has simpler wings which are easier to assemble. Also, that page explains some construction tips that I won't bother to repeat here. After you've build a G-1, the G-4 will be very similar. The main difference is longer wings with small winglets at the end.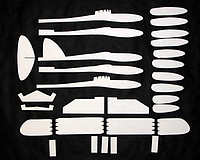 You don't necessarily have to stick to the plans. If you want to experiment, here are some simple modifications you might try:
Try lowering the angle of the wing tips to see if you get better performance. The plans call for 25 degrees at the wing tips, but I think that might be too aggressive. Try a smaller angle and see if the plane flies farther.
You can get a plane without any markings on it by printing the plans out on a separate piece of normal paper (not the thick card stock). Then tape the plans to the card stock and cut out the pieces. You'll end up with clean pieces, with no lines on them, which I find aestheically pleasing.
If you shrink the plans before you print them, you can make smaller planes. You could try to make larger planes too, but I suspect the paper wouldn't be strong enough.
Once you've built a plane, find a large outdoor area to fly it, because these planes can fly a long way. Even in a decent-sized yard it often goes over the fence into the neighbor's yard. An empty softball field works well. Check here for tips on tuning and flying your plane.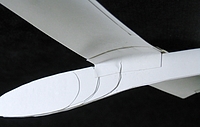 Download G-4 plans (rev. 2):