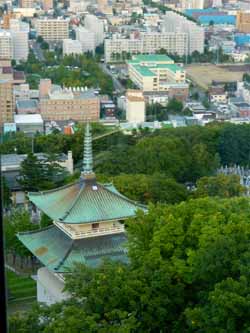 In 2009, we spent three weeks riding bicycles around Japan.
This is the final part of the story of that trip.
(Part 1 is here and part 2 is here.)
September 10, 7:30 am, Pension Birao, Teshikaga
Distance ridden yesterday: 89 miles. Weather: sunny, slight headwind.
Rode 89 miles yesterday, setting a new personal record for the second time in a week. Started in Rausu and rode down the coast for a couple hours. Several tunnels, one of which seemed especially dark until I realized I had forgotten to take off my sunglasses. Stopped at a market on the side of the road; they had white chocolate made with melons from Yubari. It tasted exactly like fresh melons.
Turned inland after the market, crossing flat farmland with mountains in the distance. Rode on small back roads between the fields with a slight headwind the whole way. Yana and I weren't putting enough effort into drafting tightly behind Piaw (it takes concentration to stay close enough). Once we dropped back it was too much work to catch him so we just trailed after him for many miles.
Found a nice inn in Teshikage where we left our bags before going back out to ride up to Lake Mashu, part of Akan National Park. When we were in the park a few days ago we skipped Lake Mashu because of poor weather; it was nice to get a second chance. The scenery was well worth the climb. The road goes up the ridge so we had great views; the farmland at the base of the mountain glowed from late afternoon sun streaming through the clouds. The lake is a deep blue color and lies in a volcanic crater, far below the road which runs along the crater rim. On the opposite side there was a steep set of cliffs with puffy clouds behind. It was cold up there, and the rapid descent was even colder.
Dinner was Western style, but with an unmistakable Japanese influence: many small, well-presented dishes. Delicious.
September 10, 10:00 pm, Ryokan in Ashoro
Distance: 60 miles. Weather: patchy clouds.
Omlettes for breakfast this morning. Very Japanese, with 10 different small dishes. Well prepared, just like last night.
Rode over two passes today. Cold at times, with a headwind. My bicycle saddle has become increasingly uncomfortable the last few days. I've been trying to stay seated on the bike since my fork started making an ominous popping noise last week but now I can only sit for about 10 minutes before I have to stand up and give my butt a break. On the first climb this morning I couldn't take it any more and stopped to make a simple adjustment: I tilted my saddle forward a few degrees. That made all the difference; no pain for the rest of the day. Funny how the angle was fine for the first week and suddenly became unbearable.
Saw Lake Akan briefly at lunch. That's the last of the three lakes in Akan Park. For lunch I ordered chicken gyoza, expecting dumplings with chicken inside. What actually arrived were chicken wings stuffed with gyoza filling. Meanwhile Yana ordered veggie tempurah, which turned out to be shrimp tempura served over vegetables. No matter, we're flexible and both dishes were good.
We've been passing lots of road construction. There is almost always a man standing at the front of the construction with a whistle, motioning to traffic to slow down. Today we passed a construction site where they had a robot doing this job. It had a whistle and waved its arm as we rode past.
Staying at a low-end minshuku tonight. It was billed as a ryokan, which is supposed to be a step up from a minshuku, but this is basically just a room in some family's house. The plumbing is questionable. We've now experienced the full range of toilet technology, from robotic toilets with digital control panels all the way down to squat toilets (both with and without plumbing)
Supper was sushi rice bowls at a restaurant in town. Piaw was still hungry afterwards, so we went to a second restaurant for another meal. Hard to satisfy cyclist appetites with Japanese portion sizes. Finally we stopped by Seicomart (a convenience store) and I got frozen mochi for dessert. We've tried almost every snack Seicomart carries, so we need to start looking for other places to purchase food.
Our convenience store ritual goes something like this: Find a snack that looks good. Is it small enough to fit in our luggage? Good. Pick it up to see how heavy it is. Heavy snacks are good. Light snacks are mostly air, put them back on the shelf. Next check the calories. More is better. Low-calorie snacks go back on the shelf. The ideal snack has a high calorie-to-cost ratio and is dense so it doesn't take up space in our luggage. Japanese snacks are usually over-packaged, with outer wrappers, inner wrappers, plastic trays, etc. After purchasing, throw away most of the packaging before leaving the store to reduce bulk.
September 11, 9:00 pm, Drumkan Minshuku, outside Shintoku
61 miles, partly cloudy, headwind.
Another headwind day, so more pacelining. Good weather still holding. Starting to feel like autumn with cool air but warm sun. Near the end of the day we stopped a few miles outside Shintoku and tried to find a minshuku that the Touring Mapple recommended. We couldn't find it. Couldn't even find the village that was supposed to be there. Finally gave up and decided to ride on to Shintoku. As we rolled away Piaw and I finally spotted the place but it just looked like a house so we kept riding.
Five miles to the info center in Shintoku where the lady at the counter called a few hotels for us. All full, due to a golf tournament that was in town (aside: we saw the people playing golf on the courses. It didn't look like the golf I'm used to. Instead it looked like a cross between croquet and mini-golf.) She tried hotels in the next town, same problem: all full. By now three other people behind the counter had joined the search, calling various hotels. Finally she found a place: the one we had ridden past. She was concerned that it was too far for us to ride back, but it really wasn't. When you've already ridden 56 miles another five isn't a problem, plus there was a tailwind.
The minshuku was run by two brothers. Front room filled with guitars (at least 10) and a drum set. Every inn makes you fill out an info slip with your name, address, etc. Here, though, one of the questions here was "what is your favorite song?" Music theme firmly established, the brothers drove us to an awesome onsen for an hour or two, then we returned to enjoy a meal of Jingisukan together.
After dinner one brother sat down at the drums, the other grabbed an electric guitar, and they played a short set for us. Surf rock, loud and good. They were having at least as much fun as we were, maybe more, smiling and laughing. Next they both grabbed acoustic guitars and sang folk songs with Piaw. Easily one of the best nights of the trip. If you're in the area, give them a call and you'll get a night you won't forget. Take musical instruments if you have any. Their web page is here and it has a contact form.
September 12, Noon, restaurant in Tomamu
Touring gives you funny food cravings. We daydream about food even while eating. So far I've wanted a good hamburger, milkshake, breakfast cereal (corn flakes, frosted flakes, corn puffs), donuts (especially apple fritters), pizza, burritos and all manner of American sweets.
September 12, 10:20 pm, Yubari Forest Youth Hostel
82 miles, good weather, no headwind.
Turned into another long day. Left Shintoku and rode along twisty roads winding through the mountains towards Shimukappo. Followed some train tracks through a narrow canyon for a while, then rode next to the Doto Expressway, an unfinished superhighway. We originally planned to stop in Shimukappo. Weather was still holding, though, and no headwind so we decided instead to push on to Yubari. Wanted to spend another night in the lovely hostel there.
Some very busy roads, tunnels with no sidewalks, mountain descents with large trucks. Glad we didn't have to do it in the rain. We kept leap-frogging a military convoy. They weren't much faster than us when driving so we would pass them when they stopped and then when we stopped they would pass us. They kept the traffic speed low.
Made it to the hostel by five so we had time to shower before dinner. They put us in the cute cabin next to the main building. Lightly raining now but we have a warm fire and dry beds.
Spending so much time on the bike that days are starting to blur together. Life consists of the three essentials: eat, sleep, ride.
September 13, 6:40 pm, Lapland Lodge, Shikotsu
55 miles, overcast.
This morning I was tired of riding. Tired of pedaling, tired of wind, tired of bugs hitting my face hard enough to hurt, tired of traffic, ready to put the bike in its box and not see it again for a long time.
Met a group of serious cyclists outside Chitose. The first group we've seen. They were getting ready for a ride in a parking lot. We pulled in and chatted with them, trading snacks.
We stopped for lunch in Chitose at a sushi-boat place. Dishes come around on a small conveyor belt. Fish, fried chicken, mini-burgers, dessert. Plates are color-coded to indicate price. At the end you pay based on the stack of plates you've accumulated. Small faucet at each seat dispenses hot tea. Enjoyed this place more than most sushi places because we could eat exactly what we wanted and nothing we didn't.
After eating my spirits were restored and I felt like continuing. Since we rode extra yesterday we had enough time to take a side trip to Shikotsu today. It is another National Park east of Chitose with a large lake. Found a bike path to take us most of the way there. The path was separated from the road and a little overgrown.
Shikotsu is hilariously touristy. Between the parking lot and the information center I counted seven ice cream stands. We arranged lodging, looked at the stores selling touristy junk, ate some snacks, looked around the museum. They have evacuation instructions in case one of the local volcanoes errupts.
We're staying at the Lapland Lodge near the shore of the lake, a short ride from the main village. On the way over there was one long straight section of road. Far behind us I heard a couple motorcycles start accelerating. Sport bikes, by the sound. They kept accelerating. Even knowing they were coming I still jumped when they flew past. I've never seen motorcycles go so fast.
Parked our bikes at the lodge, then the owner drove us to a nearby onsen (which happened to be right back by the information center we had just been at). After bathing, we returned to the lodge where the owner made Jingisukan for us. We enjoyed it along with the other guests.
September 14, 2:00 pm, Train to Sapporo
21 miles, sunny.
Gentle downhill ride to Chitose this morning, along the overgrown bike path most of the way. Perfect weather. Disassembled and packed our bikes in the lobby of the airport hotel. Took about two hours. Quick showers then down to the train station below the airport to catch a train to Sapporo. Glad the ride is over, glad it went so well, glad our gear worked and glad we saw so many amazing places and met, if only briefly, so many wonderful people.
September 14, 8:30 pm, Train to Chitose
In Sapporo we wandered through several shopping malls, including an underground one called Pole-Town. Purchased gifts for people back home. Found socks with separate pockets for the big toe so they can be worn with flip-flops.
After shopping, we took the ropeway up Mt. Moiwa to watch the susnset. Mt. Moiwa overlooks the city and at the top there is an observation deck and a gift shop (of course). It was crazy to look off across the plains to the distant mountains in the west and realize that Yubari was over there. It seemed impossibly far away but it had only taken us a single day to ride there.
Once it was dark we went back down to the city to get dinner. We'd already seen New Ramen Alley so decided to go to Old Ramen Alley. Very similar setup: narrow alley lined with ramen shops, all serving giant bowls of steaming noodles.
The food on this trip was fantastic. A lot of the places we stayed mentioned that much of the food they served was grown locally. Makes sense, as we rode through farmland most days. Some food was even homegrown, like the mushrooms and homemade bread in Shikotsu. We noticed that the salads and fresh vegetables all tasted amazing, especially the tomatoes. Hard to know how much of this was because they were high quality, and how much of it was because we were riding hard enough to get very good appetites.
September 15, Plane to San Francisco
We're done.
Checked in for our flight early today; found out it was cancelled but we were early enough that they were able to book us onto a different plane instead. Much apologizing and bowing from the ticket agents.
Our bike boxes were too big to fit through the x-ray scanner at the airport. Instead some ANA staff with white gloves had us open the boxes for manual inspection. More apologizing and bowing.
Enjoyed one last Japanese meal at Narita airport, then boarded our plane home. And yes, the plane was Pokemon-themed, inside and out.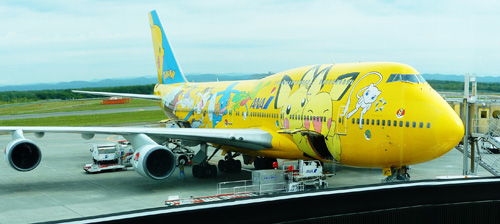 Epilogue
Over three weeks we rode 952 miles, across Hokkaido and back again.
Even though I ate almost constantly, had ice cream at every opportunity, tried every snack at Seicomart, even forced myself to eat when not hungry on a few occasions, I still lost 10 pounds by the end of the trip.
The first week after returning to the US, Yana and I kept bowing to people. We bowed when someone held the door, when taking the receipt from a store clerk, or when saying goodby to someone. We must have looked ridiculous.
Not long after returning we got rid of our bed and replaced it with Japanese-style futon mattresses stuffed with cotton. They can be moved out of the way or stacked in the corner of the room when not needed. We find them more comfortable and are getting better sleep on them. They are very firm and there's absolutely zero motion transfer when the other person moves around.
Took most of a week to get around to putting the bikes back together. Went out and climbed Old La Honda (one of the classic Bay Area bicycle climbs) to set a personal record while we were still in peak shape. It was many weeks after that before I felt a desire to ride again.
I never heard the popping noise from my front fork again. The only explanation that makes sense is that the quick release wasn't quite tight enough and had a little bit of play.
Yana and I have traveled several times since this trip, but only rented a car once, finding that we prefer to tour by foot or bicycle now. Without a car we can really see and smell and hear a place, and get to know it in a way that drivers don't.
The end.