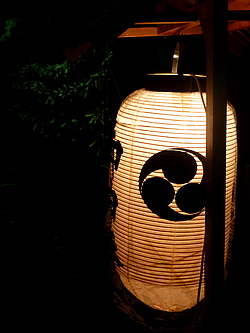 In 2009, we spent three weeks riding bicycles around Japan.
This is part 2 of the story of that trip.
(Part 1 is here)
September 3, 8:00 am, Daisetsuzan Youth Hostel, Asahidake
Distance ridden yesterday: 35 miles. Weather: sunny, increasing clouds through day.
Yesterday morning fog covered Biei but burned off during breakfast. The Potato hostel in Biei served toast with breakfast. We had all been craving bread and ate almost a whole loaf during the meal, plus an entire jar of honey.
Left Biei after breakfast and rode across the valley, up the long gentle climb to Asahidake. Asahidake is the tallest mountain on Hokkaido, and like Tokachidake is part of Daisetsuzan National Park. There's a small ski town near the base of the peak with a nice hostel. After checking into the hostel we took the ropeway (gondola) up the mountain. It dropped us off by a small pond and a group of sulfur vents in the crater. From there, a trail headed straight up the rocky ridge to the cloud-covered peak. Loose volcanic rock, some dark and some yellow from sulfur. Above tree line the whole way. On the left side of the ridge the mountain dropped steeply down to the crater which was obscured by shifting clouds. On the right, it dropped down to alpine forests far below us.
The clouds cleared away from the peak for a while as we climbed, then returned. At a small shoulder just before the peak, we could look out above the cloud layer. When we reached the peak, the view down into the crater was blocked by clouds but we could see east across the park. Peaks and high hills extended that way for miles.
Met a backpacker at the top whom we had also seen on the trail at Tokachidaki two days before. While we had biked down to Biei and back up to this peak, he had hiked across the park to get here. Shared food and stories with him as we enjoyed the views from the peak.
To keep a light load on our three week trip I only brought two pairs of shoes: my cycling shoes and a lightweight pair of flip-flops. Cycling shoes are terrible for hiking so I wore the flip-flops on our hike. I wasn't sure how well they would work but I had done some training hikes with them back home to toughen my feet. Ended up being fine on the ascent, though they were amusing to the Japanese hikers we met. Most of them were well-equipped with sturdy boots, hydration packs, bear bells, trekking poles, etc. and they laughed when they saw my footwear.
On the steep descent the loose rock made for treacherous footing. With flip-flops, the trail required concentration to avoid slipping. Clouds started getting thicker as we descended. Soon the air blowing over the ridge was cold, gray, and damp.
When we got back to the hostel we were tired, dirty (especially my feet) and ready for the hot springs. The hostel's bath consists of an indoor hot pool and a beautiful outdoor pool formed out of lava rock with lush green plants growing all around. Very relaxing after a long hike.
At breakfast this morning we met a lady visiting from France. She works for the government and gets 10 weeks of vacation a year (sounded pretty nice to us). She wasn't enjoying the food in Japan, though, and ended up giving us some of her breakfast. We gladly accepted the extra calories. Portion sizes in Japan are healthy, not the ridiculously over-sized portions that American restaurants serve. This seems to be great for Japanese waistlines, as we have seen very few obese or even chubby people. Bicycle tourists, however, need massive numbers of calories every day so we are always on the lookout for extra food.
September 3, 8:00 pm, Tomato Minshuku, Biei
Distance: 49 miles. Weather: sunny.
This morning Brooks, Yana, and I took a side trip to Tenninkyo Gorge to see the waterfalls. A short gentle climb brought us to a small group of hotels nestled in a narrow canyon. Both sides of the canyon were cliffs of some kind of columnar basalt covered with trees and brush. Asked directions to the falls with my limited Japanese. A short trail brought us to the first one, Hagoromo-no-taki; smooth streams of water flowing down curved rock. We continued down the trail, along the edge of the river which flows through the canyon. The water had an odd blue color but was clear and cold. We soon reached the second falls, Shikishima-no-taki. Enjoyed the solitude for a while before heading back down to our bikes.
Daisetsuzan is a large park but only has a few roads approaching its edges, and none crossing it. The interior is only accessible by trail which concentrates visitors on the edges of the park and makes it feel like a small place. Yesterday on Asahidake we met the backpacker we saw at Takochidake. Today at Tenninkyo we met a mother/daughter pair whom we had talked to on the ropeway up to Asahidake.
After Tenninkyo we rode down to the information center in Biei. Talked to same helpful lady as before. She told us Piaw had already reserved lodging at a local minshuku (a sort of bed and breakfast) then she took our luggage, to be delivered to the minshuku. Service!
We headed out to lunch and the flower fields in Bibaushi. Rode along the "panoramic road" which offered wonderful views of the hills around Biei and the peaks of Daisetsuzan. Without heavy luggage the bicycles felt alive, snappy, full of energy. Ate lunch at a restaurant along the way then stopped at the ice cream stand next door. The lady running it seemed happy to see us and betwen her limited English and our limited Japanese we figured out what the flavors were and ordered.
The flower fields were filled with all types of flowers, arranged in bright stripes down the hill. They are at their prime in the spring but even in September the colors were beautiful. The whole operation was extremely touristy but I'm starting to expect that in Japan, where every scenic vista and tourist attraction has a gift shop next to it. Regardless, it was enjoyable to walk around among the flowers with mountain peaks rising in the background.
On the ride back to Biei we had our first flat tire of the trip. Caused by an old patch giving out and not road debris. Not surprising considering how clean the roads are here. The Japanese are either too polite to litter, or someone is doing an excellent job of picking it all up. Either way it leads to pleasant riding.
Went to a BBQ place for dinner. There was a small grill in the middle of the table, but it was so shiny and clean that we weren't sure whether we were supposed to put food directly on it on whether there was supposed to be a pan. Finally our waitress came over and demonstrated that we were in fact supposed to put the food directly on the grill.
September 4, 6:00 pm, Sounkyo Youth Hostel
61 miles, rain clearing to sun.
Left early this morning on our way to Akan National Park. This was our last time with Brooks as he has to fly home this weekend and opted to stay in Biei. It is sad riding on without him.
We left Biei and skirted the edge of Asahikawa on our way towards Sounkyo. Rained a bit so we were wearing our foul-weather gear. As we crossed the bridge over the river outside Asahikawa, Piaw noticed a bike path below us running along the edge of the river. It didn't show on our maps, but it looked quite nice and seemed to be headed the direction we wanted. Weren't sure it would take us to Sounkyo, but decided to try it so we left the road for the bike path.
Soon we saw a sign showing the distance to Sounkyo which reassured us that this path went where we wanted. Every kilometer we would pass another sign showing the decreasing distance to Sounkyo. The path was well built, looked new, and was mostly deserted. Unfortunately it turned out to be so new that it wasn't even finished yet. It ended abrubtly at a rest area, with a sign explaining that when the path was finished it would indeed go all the way to Sounkyo. Back to the road for us.
Arrived in Sounkyo at about 1:30. Lots of hotels nestled in the bottom of a river gorge, like Tenninkyo but larger. Ate lunch in the village then rode over to the waterfall viewing area.
There used to be a pedestrian/bicycle road through the bottom of the canyon, along the edge of the river. The road was closed after a landslide many years ago and never reopened. The gate across the road had various warning signs on it. We couldn't see any landslide and there was no one around so we went exploring. Weeds were growing through the pavement but the road was still in good condition. So much abandoned engineering back there: errosion-controlled steam beds, tunnels, bridges, all slowly getting overgrown. Found a second, taller gate across the road after maybe a mile, with a few large rocks in the road past the gate. This gate seemed harder to climb over so we rode back through the weeds to the gift shop and had ice cream.
Japan is in love with ice cream. You can buy soft-serve for 200-300 yen ($2-3) at every tourist stop, and there are tourist stops everywhere in Hokkaido. Every shop has a cute statue of an ice cream cone so it is easy to find the ice cream stands. We've been eating at least one ice cream cone every day. One of the benefits of touring by bicycle is that you need a lot of calories so you can eat pretty much anything you want.
Forgot to take off my outdoor slippers when I came back into the hostel after working on my bicycle. Very embarassing. Here's a quick rundown of the slipper system in Japan: There are three kinds of slippers: outdoor, indoor, and bathroom. Everywhere we've stayed has provided communal slippers for these purposes. You don't wear outdoor slippers indoors, you don't take indoor slippers outdoors, and obviously bathroom slippers stay in the bathroom. As an aside, you don't wear any slippers on tatami mats. This is all second nature to Japenese, but gaijin tend to screw it up and do shocking things like taking indoor slippers outside, or wearing bathroom slippers around the house.
Our hostel tonight doesn't have a bath so we paid to go to one of the fancy hotels to use their onsen. It was very nice with 2 different baths. One was on the 7th floor and had a great view of the gorge and surrounding mountains. The other was at ground level and overlooked a perfectly manicured lawn with lovely trees. Again Yana couldn't join us so we met up with her after.
September 5, 9:00 pm, Bihoro Youth Hostel
75 miles, rain in morning.
Long day: 75 miles. Longest ride Yana and I have ever done. Still feeling great too, so we must be in good shape. Piaw says it is common for riders to get stronger during a tour, assuming they are eating enough. Rain this morning as we climbed the pass. Started with a 3.4km tunnel through Sounkyo Gorge. It had a sidewalk and large ceiling-mounted blowers to move air through the tunnel. Emergency phone booths the whole way. We rode with earplugs to escape the noise from the cars and the blowers.
The descent was cold and wet through the mountain forest, then gradual downhill across farmland to the city of Kitami. Traffic was heavy near the city and the road was narrow. Not much fun. No English speakers at the tourist info center in Kitami so we decided to just ride on to Bihoro.
Couldn't find the youth hostel when we got to Bihoro. As we were riding around looking for it we stumbled onto a street fair. A security guard told us we had to park our bikes in the bike parking area. We asked if he knew where the hostel was, but he lives in another town so he didn't know either. We wandered through the fair and bought a few snacks. When we got back to our bikes the same guard ran up to us. He had asked around and obtained a hand-drawn map showing where the hostel was. We ran into this kind of helpfulness over and over while we were in Japan. It was amazing.
Checked in at the hostel, showered, did laundry, then went back to the fair for more food. We were quite the curiosity, attracting lots of attention. People would say hello to us in English and get excited when we said hi back, but their English wasn't practiced enough to have a conversation. Everyone was excited to sell us food. At one food stall, Yana asked for crepes with blueberry and banana. This must have been unusual because all the people working in the stall sounded amazed and the order was repeated several times to confirm, then everyone laughed. At one place I think we got free chicken skewers just for being gaijin (foreigners).
In the middle of this fair, we suddenly heard someone speaking perfect English. This seemed surprising, since we hadn't seen any other foreigners. It turned out to be an Indian man making naan in a tandoor oven. He was serving it with curry and it was really good.
September 6, 8:30 pm, Lake Kussharo
43 miles, foggy in morning, headwind.
Short ride today, over the hill to Akan National Park. Headwind most of the way; foggy on top of the mountain. Foggy enough that my arms were wet and we couldn't see the visitor center from the parking lot. While we ate a snack the fog cleared so we had a good descent to Lake Kussharo on a damp road. The lake is pretty with clouds and fog on all the surrounding hills. Very humid.
As we get farther from Sapporo and deeper into fall it keeps getting harder to get tourist info in English. Either the information staff doesn't speak English (and is without English brochures) or the information desk is closed for the season. More and more we find ourselves on our own. Fortunately there aren't a lot of other travelers so lodging is easy to get and there is less need for reservations. We've just been riding into town and looking for a place we like.
For tonight we found a lovely hotel with good food next to Kotan onsen, an outdoor hot spring. There's also an Ainu museum next door. The Ainu were the native people who lived here before the Japanese colonized the island. The museum is a recreation of an Ainu lodge, filled with smoke from a wood fire in the middle of the floor.
The hot spring was the first free public spring we've been in and the view was fantastic, right on the shore of the lake. Separate parts for men and women, but right next to each other so Yana didn't feel isolated. After soaking in the hot spring we still had time before dinner so we rode back along the lake to ride around the Wakoto Peninsula, which sticks out into the lake. The trail which goes around the peninsula turned out to be a narrow hiking trail so we ended up mountain biking on our road bikes.
My fork started making a popping noise yesterday. Every time I try to pedal while standing up it pops. Piaw is worried that it may be breaking so we are hoping it doesn't get worse before we find a bicycle shop with a fork for sale. Until then, I'm staying seated while pedaling since it doesn't make popping sounds when I'm seated. Fingers crossed.
September 7, 8:00 pm, Utoro Minshuku
61 miles, tail wind turning to headwind in the afternoon.
Today Yana and I got tired of having wet feet. Piaw's fenders keep his shoes fairly dry, but our feet are constantly getting sprayed with water from our front wheels. Tried taping plastic bags over our shoes to try to keep them dry. Mixed results; fenders would be better.
This morning, while photographing funny swan-shaped paddle boats at Lake Kussharo, a young lady approached me. She was studying English and was excited to be able to practice with some native speakers so we told her about our ride and had a short conversation.
Though Lake Kussharo is beautiful, Lake Mashu is what Akan is really know for. It sits in the crater at the top of a volcano. The tops of the mountains were in the clouds today though. Didn't seem worth climbing up the volcano since we wouldn't be able to see the lake anyway.
Instead we opted for another long ride to get us to Shiretoko. Fast tailwind for most of the ride; 20mph at one point. Made good time until the road turned and the tailwind became a stiff crosswind. To cope, our paceline had to spread across the lane in an echelon formation, but the traffic was light and drivers were polite so it wasn't a problem.
Stopped at one bicycle store along the way but they didn't have any forks for my bike. They mostly had casual/commuter bikes, not road bikes. I'll just keep babying the fork and hoping for the best.
Saw the ocean for the first time on the trip today, and now we're in a minshuku overlooking the Utoro harbor. On this northern part of the island, signs have started to be in Japanese and Russian.
Ate dinner at a fish market down by the water. Had a sashimi dish that consisted of carefully arranged salmon on a bowl of rice, topped with salmon roe. Very good. It was called "Mother and son."
September 8, 7:30 pm, Rausu Hotel
20 miles, rain & wind.
So wet today. Rain almost all day. Took the bus out from the Shiretoku nature center to Kamiuiwakka-no-taki, a hot spring waterfall. It was interesting to wade up the creek in the rain and not have cold feet but the trip was ultimately disappointing. The rangers didn't let us go all the way to the actual waterfall. The water where we were was tepid, not even warm.
After returning to town on the bus, we started our ride. The climb up Shiretokotoge pass was lonely, as we all rode at our own pace and were soon separated. I listened to the rain on the trees, watched drops of water form on my helmet brim, watched the water drip off my head and shoulders down past the bike, and watched the water run down the road into storm drains. I unzipped my jacket, trying to find a balance between getting sweaty with the jacket on or drenched with the jacket off. It didn't matter much, as I was wet all day anyway. Cars and buses drove past and it was like their drivers were in separate universes, speeding along in a little bubble of comfort, warm and dry. Once they disappeared in the rain I was alone again and still wet. At least the deer shared my universe, and understood what it was like to be drenched as they stood in the wet brush and watched me ride past.
Near the top I rode into the cloud and it felt like my universe got smaller. The wind picked up and occasional patches of lighter fog blew past. Soon the wind was racing past and I could see glimpses of blue sky over the pass, promising better weather on the other side. A false promise. At the top I let the wind push me into the parking lot. The road I had just climbed was hidden by a dense gray wall of cloud. Looking down the other side of the pass showed sunny hills and blue ocean below, with clear sky beyond. The wind whipped over the pass, pushing me around even as I stood. Yana and I dressed for the descent in the bathroom as drivers/passengers braved the cold for a few minutes to look over the edge. They would scurry back to their warm cars after snapping their photos, while we stood in the doorway of the bathroom, wet and cold and preparing ourselves for the descent.
The first few turns were ok, then the wind picked up. It shoved us around our lanes, threatening to push us off the road or into incoming traffic. It alternated between a tailwind, hurling us down the mountain faster than we wanted to go, and a gusting headwind trying to stall us and throw us to the ground. It was scary and beautiful. Around one corner the headwind was so strong I couldn't shift down fast enough to keep pedaling. I wobbled to an unsteady stop as the wind gusted into my face. Around another corner, a rainbow appeared over the green hills below me. By the time we reached the town of Rausu at the bottom we were all cold and mentally exhausted. We decided that was enough riding for the day, even though we had only gone 20 miles. Shiretokotoge in bad weather is not to be taken lightly.
Rausu gave us a view of Russia* and really felt like the end of the world. Tried four or five places looking to find lodging. They kept saying they were full. Never did figure out whether that was true or whether we looked so wet and bedragled that they decided we wouldn't make good guests. Finally ended up going to one of the more expensive looking hotels only to find it wasn't expensive after all. We have a view of the harbor from our room.
Dinner was sashimi across the street from our hotel. On this far end of the island there are no English menus, no picture menus, no wax models of the food. Piaw and the waitress ended up writing kanji on a napkin to communicate. Wonderful food and presentation. At the end of the meal we asked about dessert. After thinking about it the chef and the waitress decided they could serve potato mochi. It was fried and sweet, weird and delicious.
* The islands off the coast are currently under Russian control, though Japan claims them as part of their territory.

Continued in part 3...