New Designs!
If you're interested in the G-1 glider, you might also like some of my newer designs.
See newer designs
G-1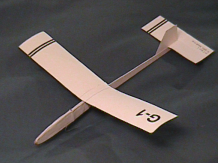 I've played around with laminated paper airplanes some and now that I have a webpage I can finally post some of my designs for download. This is a pretty cheap hobby. The plans are free and you just cut them out and glue them together. The only thing most people won't already have around the house is heavy paper.
This isn't the kind of airplane we all used to fold in school. It is made from heavy cardstock, using many laminated layers for strength. Properly adjusted and thrown it can fly a long ways. I would suggest going to a large open space, like a park, to test it out. When I flew it from my driveway I ended up retrieving it from my neighbor's yards most of the time.
Materials you will need:
Heavy card stock. This is a thick paper, like 3×5 index cards. You can buy it at office supply stores.
Scissors
Glue. Plain white glue works well. I apply it using a small paintbrush.
Something to score the paper with before folding. A ball-point pen will work, but will leave marks. I use the tip of the nailfile on my pocketknife. To score the paper carefully run your scoring tool along the fold line while pushing down. This will push a line into the paper and help it fold where you want. Use a ruler to get straight lines.
A heavy stack of books to put the pieces under as the glue sets. Put a sheet of paper above and below the pieces you are gluing so excess glue doesn't get on the books
Download G-1 plans (rev. 2):
Once you have downloaded the plans print them out on heavy paper. Follow the directions to construct the plane. Once the plane is finished let it dry overnight. Then look here to see how to tune and fly your plane.
If you are interested in this sort of thing you might want to check out some of the Whitewings kits. That's where I got my start from. Their designs are much more elegant than mine, and at least the kit I have came with a very nice booklet containing construction and flying tips.