For our wedding anniversary this year Yana and I rode our bicycles to Point Reyes for the weekend.  Our previous bike touring experience was limited to a single overnight camping trip, so this was a fun new adventure for us.  Several weeks ahead of time we made reservations at the Bear Valley Inn in Olema, a great bed and breakfast that gives a discount if you arrive by bicycle.  This is one of my favorite places to stay as the owners are both very active and know lots of great places to hike and ride.  It is also the only bed and breakfast we've stayed at where the innkeeper went running with us in the morning.  A few days before our trip we planned our route and checked our bikes over to make sure they were working.  Friday morning we packed everything up and rode to work.
Friday

After work on Friday I jumped on Caltrain and rode up to San Francisco.  Yana met me at the station and we started our ride at about 5:30 PM, heading along the waterfront towards the Golden Gate bridge.  When I first started road biking a couple years ago, riding in traffic was scary.  It still is sometimes, but as I've gotten better at it I've started to realize there are different kinds of traffic.  We had the good kind of traffic: polite and slow.  When the cars are driving about the same speed as the bikes, they tend to be more patient when passing and it is easier to take the whole lane when needed.  If there's a delivery van parked on the shoulder, say, it's easy to merge into the traffic lane without cutting off any cars.  I was pleasantly surprised to find that there are also a good number of bike lanes and small empty streets between the train station and the bridge.  Quite a bit of the route didn't have any cars at all.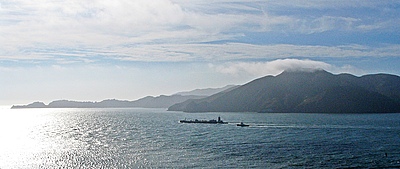 The bicycle lane on the Golden Gate bridge was mostly empty when we arrived so we didn't have to worry about colliding with other riders.  Instead we admired the view of the Marin headlands and watched a ship leaving the bay with a small tugboat following.  The wind was steady and cold and we leaned into it as we rode along the span.  At the bridge's towers, the sidewalk sharply bent around the massive orange columns and the wind changed angles, alternately trying to push us into the tower and then into the fence.  On the lee side of each tower the wind briefly stopped, giving us a moment of quiet warmth before rolling back into the chill crosswind.  After leaving the bridge we went through the tunnel under 101 and descended into Sausalito.
On the first climb in Sausalito, Yana's chain fell off.  Then it fell off again.  At the top of the hill we stopped to look at the chain but couldn't figure out what the problem was, so we kept riding.  On the next hill, it fell off a couple more times.  I tried riding her bike, hoping to watch what it was doing, but the chain stubbornly stayed on the bike.  I couldn't figure out what was causing the problem, so eventually I gave up and just adjusted the front derailleur to rub a little in the lowest gears, hoping the derailleur would physically block the chain from coming off the chainring.  It worked, although Yana had to put up with the rubbing noises this generated for the rest of the trip.
Marin is pretty serious about bicycles and they have a great network of bike paths.  Between Sausalito and Mill Valley, for example, we rode on a wide bike path that cut through the wetlands, far away from the traffic.  It was big and empty and the terrain was open and grassy and beautiful.  We took the path until it ended in Mill Valley, then found a twisty little street called Camino Alto that took us up and over the hill into Larkspur.  After grabbing sandwiches at a grocery store, we continued on through all the small towns along Sir Francis Drake Boulevard.  The sun finally went down as we were climbing the hill outside Fairfax.
The other side of the hill is home to the San Geronimo golf course, and the road here is straight with a gentle down grade.  We were flying along this road through the dusk when I got a flat tire.  We sat down in the grass and I had just started fixing it when a friendly sheriff's officer (or CHP?  I didn't get a good look in the dim light) pulled up.  He checked to make sure we were ok, then made sure we knew where we were going and didn't need any help before driving off.  It didn't take long to fix the flat, but at this point it was getting pretty dark.  We pushed on, getting back up to speed on the slight downhill.
After passing the golf course the road winds through Samuel Taylor State Park.  The road follows a creek at the bottom of a canyon filled with redwoods.  I've driven here during the day and it was beautiful, with cool green light everywhere.  At night, though, it was pitch black under the canopy of trees.  We rode side by side to share each other's headlights, taking up the entire narrow lane as it wound back and forth through the dark.  Nothing was visible outside the small pool of light from our headlights but we could listen out into the night, hearing the creek and occasionally a small waterfall as we raced past.  We pedaled on and on, curve after curve.  Finally the trees came to an end and we were at the base of the final hill.  A short climb got us to the top of Bolinas Ridge, right above the town of Olema.  Nothing but a quick descent between us and bed.
[Stats: 40 miles, 4.5 hours including supper]
Saturday
Saturday morning we were hungry and tired.  After a delicious breakfast we opted for an easy day, starting with a short ride to the farmer's market in Point Reyes Station.  This was a small-town farmer's market, with only a couple dozen vendors but great selection and just the right amount of quirkiness.  We were sadly too late to catch the cooking demonstration (wish our farmer's market had that!), but not too late to eat an early lunch.  We ate some wonderfully unhealthly grilled cheese sandwiches made with local cheese.
After lunch we meandered over to Shell Beach in Inverness.  A short climb up Camino Del Mar brought us to a tiny parking lot on a hill above the beach.  There was a trail snaking down through the forest to the water which was rideable assuming a little mountain biking experience.  The switchbacks descending through the dense foliage reminded me a little of some tropical hikes in Hawaii.  At the bottom of hill the trail hit the beach and turned to sand.  Not wanting sand in our bikes or our biking shoes, we switched to sandals and parked the bikes against a hill. Shell Beach is on a small cove facing Tomales Bay so the water is very calm, not at all like the pounding waves out on Point Reyes Beach. We sat on the sand, watching children wading in the cold water and watching boats go by on the bay.
We normally could have stayed at the beach for hours, but we didn't have anything to lay down on and our thin biking clothes weren't enough to protect us against the chilly breeze, so we decided it was time to do more riding and headed for Mt. Vision.  The road up Mt. Vision was steep and rough.  The pavement was not broken or cracked, just rough so the whole bike vibrated as it crawled up the hill.  The road was narrow, too, without even a centerline. We had started in trees but near the top left them behind and rode through rolling hills covered with low bushes.  It was beautiful up here, with small ponds and views of Drake's Bay down below.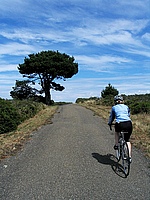 The road ended without ceremony at a small power station for the nearby aircraft navigation beacon.  Weather changes quickly at Point Reyes, and as we turned around we noticed there were already more clouds forming below us; the afternoon fog was starting to form already.  We had a quick descent down through the cold ocean air, the rough pavement rattling us and our bikes.  By the bottom of the hill our hands hurt from squeezing the brakes and tingled from the cold and vibrations.
By the time we got back to Inverness we were hungry again.  Again!  It was amazing how we were continually hungry.  Cycle touring seems to require almost constant eating.  The Busy Bee Bakery was open and we'd been wanting to try their food for several years (somehow they had always been closed when we drove by).  The inside of the bakery was small and cozy, with small tables by the windows.  It would be a wonderful place to wait out a winter storm with a cup of tea and a scone, but since we were still warm and sweaty from riding we enjoyed our pastries on the bench out front.  After finishing our snack, we headed back to the inn for showers before dinner.  We were done with riding for the day, so we walked to the Olema Farmhouse where we enjoyed entirely too much food.
[Stats: 30 miles, 6 or 7 hours including many stops]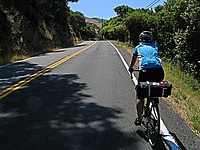 Sunday
Sunday morning it was time to get on the bikes and head home.  We opted to ride home via a slightly different route from the one we had arrived on: instead of leaving Olema via Sir Francis Drake Boulevard, we rode through Point Reyes Station then out towards Nicasio.  The road follows the creek through a small canyon and around the base of Black Mountain before wrapping around Nicasio Reservoir.  This is really beautiful country in July, with dry golden grass on all the hills and wonderful blue skies.  The hills by Nicasio were open and empty as we rolled past, then as we joined back up with Sir Francis Drake Boulevard the land started getting more populated and built up as we returned to the city.  Soon we entered Fairfax and were back to city riding, leaving the country riding behind.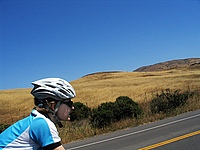 While eating pizza in Fairfax, we noticed people kept walking by on the sidewalk with ice cream cones.  They were all coming from the same direction so after we finished eating we headed up the street.  Sure enough, there was a small ice cream shop a few stores down, which we never would have found except for the fact that their ice cream cones were very effective advertisements.
Somewhere between Mill Valley and Sausalito we started seeing tourists on their rented bicycles.  As we rode crowds kept getting thicker and thicker until, by the time we got to the Golden Gate bridge, the bike route was clogged with mobs of tourists swerving all over the place.  If you want to ride over the Golden Gate, I heartily recommend you do not do it on a Sunday afternoon.  The crossing was much more enjoyable Friday evening when we mostly had it to ourselves.  I finally managed to jump on the rear wheel of a faster rider and let him clear a path through the slower cyclists.
The ride from the bridge to Caltrain was much more exciting in this direction.  Because of the layout of the one-way streets, we were one street over from where we rode on Friday, and because of where the hills are we had quite a bit of downhill riding.  This was great because it meant we were as fast as the cars, and faster than the buses (several of which we passed).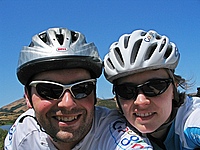 Our tiredness caught up with us on the train ride home.  Neither of us had the energy to talk so we both read news and blogs on our phones.  By the time we arrived in Sunnyvale we were both thankful that we lived only a few minutes from the station.
[Stats: 50 miles, I'm not sure how long it took.  Total mileage for the weekend: 120 miles]
Appendix: Gear and Tips
I was very pleased with my Detours Toto Panniers.  I appreciate their simple, clean design.  I also found them very usable.  They are held closed by a simple magnetic clasp so it is very easy to open them to get gear.  I was actually able to fish an energy bar out of my pannier while riding!  (One small caveat: the bags I got had sharp screws protruding too far into the interior of the bag.  Detours has pretty sweet customer service, though, and sent me replacement bags)
Low gearing is great for touring.  I was borrowing a friend's wheel with a 34-tooth cassette, and it was awesome for climbing up hills with a loaded bike.  I've since gone out and bought a 32-tooth cassette for my own wheels.  I'm firmly convinced that road bikes should have mountain bike gearing if they are going to be used for touring.
The Marin County Bicycle Coalition sells a bicycle map that was very helpful both while planning our route and while riding.
A towel would have been nice when we were at the beach.  Cycling clothes are not very comfortable beach attire.  Towels are bulky and heavy though, so I'm not sure there is an easy solution to this.
Putting a pair of flip-flops at the bottom of your Carridice saddlebag can give some support and prevent it from bulging down between the bars of the saddlebag support.